Patients, especially in the Unites States, have become accustomed to having dental equipment sterilized over the past 20 years. Before that time most dental equipment was just cleaned and/or disinfected. It wasn't until the late 1980's when AIDS/HIV came onto the scene that states began to require dental offices to use gloves, masks, eye protection, and sterilized re-usable dental equipment. This was a tumultuous time in the dental profession. The dental equipment of the time including the dental drills (handpieces) were not engineered to withstand the frequent sterilization needed in a modern fast pace dental practice. As a result, dental handpieces were constantly in the shop for repairs. Some of the old metal instruments actually began to rust!
Today, it is not uncommon for a dental office to have more than one autoclave to sterilized their dental equipment. Our office runs four at one time, and has a spare just incase one goes to the shop. Autoclaves need to be calibrated to to kill the most elusive bacteria/virus/spores and fungus. For paper wrapped trays (which is most of what we have at our office) the autoclave has to achieve 250°F at 20 psi for 30 minutes. If we need something quickly, a flash mode sterilizer is used at 270°F at 30 psi for 4-7 minutes. Scientists have found that at these setting nothing on earth could survive.
Autoclaves are just machines, and machines can malfunction. This can happen either by not achieving the right temperature (heating element failure), by not achieving enough pressure (gasket failure) or simply being too full of instruments to be sterilized adequately (cold spots). It is up to the dental office to monitor if the autoclaves are functioning properly every month, and for that we use the Attest Biological Indicators from 3M/ESPE. It is very simple to use. It comes as a package of small vials or "carpules" that have both the bacterial spores (Bacillus stearothermophilus) and culture media (tryptic soy broth culture media containing a bromocresol purple pH-sensitive indicator dye) separated by a crushable glass tube. There is also an incubator, and a log for the results.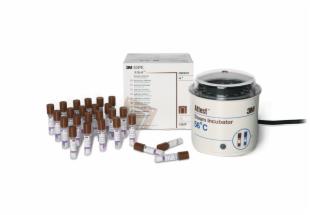 Sterilization Test Process
One Attest carpule (purple) per autoclave
Mark on side of carpule which autoclave it is used in
Place the unbroken test carpule into an autoclave with a regular load and run
After the autoclave has finished its regular cycle, activate (crush) the spore containing test carpule
Place the activated sterilized spore carpule (test carpule) AND an activated unsterilized spore carpule (control) into the the Attest incubator.
Log date/time/results at 24 and 48 hours.
Negative (good) results show up as the original Attest carpule color purple (test carpule) meaning bacteria did not grown inside the carpule
Positive (bad) results are yellow (control) meaning the bacteria grew inside the carpule
If positive results show up on the test carpule, clean the autoclave in question and re-test
If positive again then shut down that autoclave, and alert the dental equipment technician for repairs
References:
1. STERILIZATION VERFICATION BY UTLIZATION OF BIOLOGICAL INDICATORS